TRI-BEAM Premium
New definition of performance and effectiveness of Q-Switched Nd:YAG Laser
TRI-BEAM Premium™ with 20 Hz provides fast treatment
Innovative laser toning! Rich-PTP toning!
Faster toning
Safer toning
More effective toning

[PTP 1.6J with Maximum 20Hz]
Rich-PTP
2 Pulse / 20Hz, Powerful Rich-PTP Toning- Fast and effective treatment
2 pulse of TRI-BEAM Premium™ delivers more efficacy and minimizes the adverse effects for Melasma treatment.
20Hz of 2 pulse energy makes faster and safer treatment than current laser toning devices.
Dual pulse 1.6J with Maximum 20Hz
2 pulse low peak energy : less hyper/hypo pigmentation, less pain
High Power energy : 1.6J(per shot)
20Hz Practically 40Hz
Rich-PTP for Subcellular Selective Photothermolysis
Deliver high power energy at 1.6J (per shot)- Use 20Hz Practically 40Hz d/t Dual pulse
Produce mild thermal effect by 2 pulse peak energy- Minimizes Hyperpigmentation / Hypopigmentation / Pain
Simulate collagen remodeling
True Flat-Top Hat Beam
Beam Profile Comparison
The TRI-BEAM Premium™ implements a Flat-Top Beam Profile to reduce risks.
The laser resonator was designed to allow the uniform distribution of laser output beams to implement the best beam profile.
Flat-top hat mode
Gaussian mode
High power GN mode ? 3,500mJ(Max)
TRI-BEAM Premium™ produces a maximum power of 3,500 mJ in zoom HP 1,064nm GN mode,
collimation HP 1,064nm GN mode, and fractional HP 1,064 GN mode.
Handpieces
Handpiece
Dye HP
Fractional HP
Collimation HP
Zoom HP

Adjustable spot sizes between 2-10mm according to the size of the lesion.
Application of the same energy regardless of the distance between the lesion and the handpiece. Allows a safe and fast procedure.
A total of 81 dots are applied in a spot size of 5mm*5mm.
Fractional Handpiece

[81dot / 5 * 5 ?]
All three handpieces of zoom handpiece, Collimation handpiece, and the technology-intensive fractional handpiece are available to use. In particular, the fractional handpiece uses fractional beams (81 spots, 5x5mm) to allow higher fluence (J/cm2) compared to the bulk mode handpiece, allowing it to effectively destroy various pigmentations which were hard to treat before.
Variable Spot Sizes Auto-detected Handpiece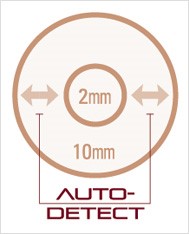 Variable Spot Sizes Auto-detected Handpiece
Adjustable spot size from 2mm to 10mm makes you operate freely in special condition.
Videos