Avalanche®
The ultimate hair removal laser system with additional aesthetic applications
Alexandrite (755 nm) + Nd:YAG (1064 nm)
Key treatments:
Hair removal
Pigmented lesions
Vascular treatments
Acne
Onychomycosis and warts
and more …
DMC™ – Revolutionary Dry Spray Molecular Cooling Technology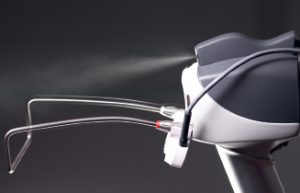 • Integrated "dry" water spray
• Reduces skin temperature
• Improves comfort
• Enhances safety
DMC™ represents a revolutionary proprietary "dry" molecular water spray technology for epidermal protection and comfort.
Fast, effective and comfortable
Non-contact cooling for small and large skin areas
Eliminates odor
No risk of cryo-injury
Homogeneous cooling even for large area scanner treatments
Ultra fast treatments with largest spotsize and scan area dual-wavelength handpieces
The Ultimate Hair Removal Laser System
Two Wavelengths in One System: Alexandrite (755 nm) and Nd:YAG (1064 nm)
AvalancheLase® performs exceptionally safe, fast and effective treatments that can be performed with just one accessory, without the need to use separate handpieces or scanners when switching between wavelengths. AvalancheLase® combines ultimate speed and flexibility with the latest technologies such as Fotona's Innovative DMC™ Cooling & MatrixView® sensors.
DMC™ Cooling for Maximum Safety and Comfort
With Fotona's innovative, patent-pending Dry Spray Molecular Cooling (DMC™) technology integrated into the handpieces and scanners, there is no need for an additional cold-air cooling device, lowering investment costs. This revolutionary technology improves comfort and enhances safety, using room temperature air and water so there is no risk of cryo-injury by over-cooling the skin.
The benefits of DMC™ cooling include:
More effective cooling of the skin, achieving a lower temperature faster
Non-contact, homogeneous cooling for small and large skin areas, including large scanner treatments
One container of demineralized water (0.7 L) lasts for a full-day of laser procedures
Eliminates odor
Ultimate Power for Ultimate Speed
The superior power of AvalancheLase® technology allows the system to generate extremely large spot sizes (30 mm) and exceptionally high frequencies. Optimal speed combined with a wide range of spot sizes in a single handpiece assures shorter treatment times, allowing practitioners to manage patient turnover quickly and increase revenues.
Hair Removal Based on Fotona's Unique Avalanche Method
Delivers consecutive pulses
Enhanced effectiveness
Faster and comfortable treatments
Patient-friendly
Safe for all skin types
The AvalancheLase® treatment modes are based on the discovery of an "avalanche" effect leading to an increasingly enhanced absorption of laser light in the treated hair following each successively delivered laser pulse. The avalanche process continues until the absorption is high enough for the hair to get damaged. The multi-pass, low-fluence modes of AvalancheLase® thus enable extremely effective, patient-friendly hair removal treatments.